I worked from home today, which meant I gave more attention to news. I have a feed set up to receive headlines from a variety of sources in a variety of places, including but hardly limited to home in New Jersey.
What kept coming up was disconcerting:
Berkeley residents watch as firefighters battle to save their homes
Downe Township brush blaze upgraded to forest fire, affecting 1,500 acres
plus countless updates from Jersey Shore Hurricane News and friends on facebook who are seeing and smelling brush fires.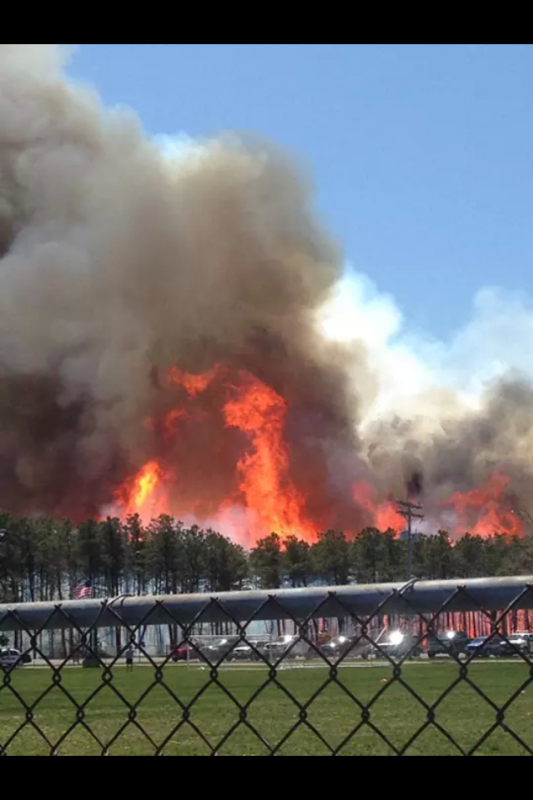 Photo courtesy Frank Hennessey, via Mike
While causes haven't been mentioned as of yet, every time I hear about fires in New Jersey, I think about a particular experience I had during my commute back to Toms River when I was teaching at William Paterson. It had been a dry string of weeks, and it was a sunny, breezy day. While sitting in traffic just before getting to Silverton, I watched firefighters respond to a brush fire in the stretch of pine trees along Brick Blvd. After traffic let up less than half a mile down the road, I watched as the driver in front of me tossed a cigarette out the window.
and I was enraged.
Now, don't get me wrong. I absolutely appreciate the beauty and intricacy of the fire ecology of the Pine Barrens. We as humans are not doing ourselves any favors by letting the biomass pile up until a stray flare or something results in disaster (and it's my worst nightmare that the Pine Barrens will burn down for one reason or another and bracken fern will take over). Here we are, trying to save communities from destruction today. But I cannot believe how ignorant so many people seem to be about how incredibly risky it is to throw
Cigarette butts going out windows of cars is not just a New Jersey problem. The annual cleanup of Bayou Lafourche, which I recently paddled, counted 3726 butts in 2012 and 1302 in 2013, picked up along the 100 or so mile stretch of the bayou that the crews focus on (source: BTNEP). That's just the ones they found and picked up. You know you see tons of them in high traffic areas (especially areas of high auto traffic, where jerks are throwing them out their windows).
It's not just a fire risk, either. Cigarette filters are not biodegradable (source: Longwood University). Seriously. They're not made of paper, or cotton-- they're made of a kind of plastic. They will not break down for a very, very long time.
And what about the water? Perhaps there's only trace amounts of chemicals left at the end of a cigarette, but that adds up, just like everything else we pollute our waterways with. I think it's pretty common knowledge these days that nicotine and other carcinogens in cigarettes aren't good for us. It doesn't matter if you're consuming it via inhalation or your drinking water. And don't even try to tell me that you can just get bottled water, because it's in there too. These chemicals can kill small animals and sicken children who eat them, too.
Obviously, it would be best if people stopped smoking all together, but the least we can do is spread a little knowledge. Please, please, please stop throwing cigarettes out windows. Would you throw them on the floor in your home? I do not live in your ash tray, people.
Hang in there, my beloved pitch pines. Hang in there, Jersey.